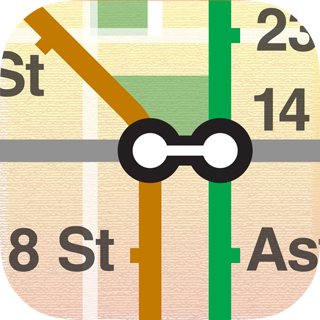 Transit Maps
Support
News
Our other apps

Run 5k
8-week run-walk
5km workout program
for iPhone

Tuna Pitch
chromatic tuner
and pitch pipe
for iPhone

C64 Paint XL
8-bit paint program
for iPad and iPhone
Transit Maps

is a navigation app for the iPad, iPhone, and iPod touch that lets you download, save, and view large-format maps in PDF and image formats.
Retina-ready map viewer
Transit Maps works at the native resolution of the Retina displays on the iPad and iPhone. The map viewer supports image sizes of several thousand pixels in each direction, with pinch zoom and drag scrolling.
About the maps
This app comes with a built-in unofficial map of the Philadelphia rail system, and supports downloading maps, schedules, and any other PDF or image files. Use the built-in web browser to choose and download your map image. This app will save the images so that you can later access them when you don't have network access, for example in a subway tunnel.
The included Philadelphia Rail System map is by Lucius Kwok.
FAQ
Q: Why is this app rated 12+?
A: The app allows unfiltered access to the Internet via the "Add Map" function, so Apple requires that I rate the app 12+ for the possibility of accessing anything on the Internet. This is why you might see a warning. It has nothing to do with anything included in the app.
Q: How do I load files from my Mac computer?
A: You can put your image files (PDF or JPG, GIF, or other bitmap formats) in your User ~/Sites folder. Then go into System Preferences->Sharing and turn on Web Sharing. In the panel, you should see the URL address to access your personal website. Enter this URL into the Transit Maps app by tapping "Add new map..." and tapping the URL button, then entering the URL from your Mac. In the web page that appears, clicking on the file will load it into the app.